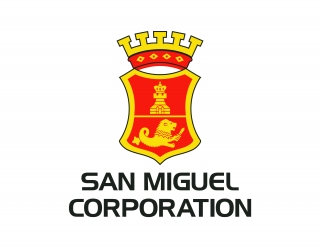 San Miguel Corporation
Established in 1890 as a single-product brewery, San Miguel Corporation (San Miguel) is the Philippines' largest beverage, food and packaging company. Today, the company has over 100 facilities in the Philippines, Southeast Asia, and China. One of the country's premier business conglomerates, San Miguel's extensive product portfolio includes over 400 products ranging from beer, hard liquor, juices, basic and processed meats, poultry, dairy products, condiments, coffee, flour, animal feeds and various packaging products.
San Miguel is one of the first companies to be listed in the Philippine Stock Exchange (PSE). The company's common shares ("SMC") were listed in the PSE on November 5, 1948.
Aside from its common shares, the company has also issued preferred shares ("SMC2A", "SMC2B", and "SMC2C"). The company's series "2" preferred shares were listed September 28, 2012.
San Miguel declares cash dividends for its common and preferred shares on a regular basis.
Latest Updates
---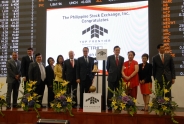 Property Dividend Distribution Date
We advise that 240,196,000 common shares of Top Frontier Investment...
SHARE PRICES CHART
Cash Dividends Search
| CODE | Type | SEQ | Rate | Declaration | Record | Payment |
| --- | --- | --- | --- | --- | --- | --- |
| SMC Common | pref | 4 | 0.35 | September 7, 2023 | October 6, 2023 | October 27, 2023 |
| SMC2A | pref | 3 | 1.40625 | August 20, 2015 | September 11, 2015 | September 21, 2015 |
| SMC2B | pref | 4 | 1.4296875 | August 8, 2019 | September 20, 2019 | October 4, 2019 |
| SMC2C | pref | 4 | 1.50 | August 5, 2021 | September 21, 2021 | October 1, 2021 |
| SMCP1 | pref | 2 | 1.0565625 | January 23, 2020 | March 20, 2020 | April 3, 2020 |
| SMC2D | pref | 4 | 1.11433125 | August 6, 2020 | September 21, 2020 | October 5, 2020 |
| SMC2E | pref | 4 | 1.18603125 | August 5, 2021 | September 21, 2021 | October 1, 2021 |
| SMC2F | pref | 4 | 1.27635 | August 3, 2023 | September 21, 2023 | October 5, 2023 |
| SMC2G | pref | 2 | 1.23361875 | January 21, 2021 | March 19, 2021 | April 5, 2021 |
| SMC2H | pref | 1 | 1.1854125 | November 14, 2022 | December 21, 2022 | January 3, 2023 |
| SMC2I | pref | 4 | 1.18790625 | August 3, 2023 | September 21, 2023 | October 5, 2023 |
| SMC2J | pref | 4 | 0.890625 | August 3, 2023 | September 21, 2023 | October 5, 2023 |
| SMC2K | pref | 4 | 0.84375 | August 3, 2023 | September 21, 2023 | October 5, 2023 |
Stock Dividends Search
| CODE | Type | SEQ | Rate | Declaration | Record | Payment |
| --- | --- | --- | --- | --- | --- | --- |
| SMC Common | com | 14 | 1 for every 10 SMC Common Shares | February 1, 2001 | June 1, 2001 | July 6, 2001 |
Property Dividends Search
| CODE | Type | SEQ | Rate | Declaration | Record | Payment |
| --- | --- | --- | --- | --- | --- | --- |
| SMC Common | com | 1 | 1 for every 10 SMC Common Shares | October 17, 2013 | November 5, 2013 | January 2, 2014 |